Nickelodeon Experimake Sweet Scents and Perfumes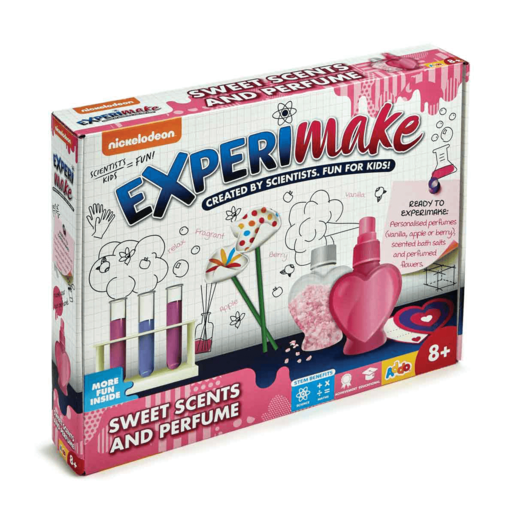 Price £10.00
BUY NOW!
Nickelodeon Experimake Sweet Scents and Perfumes
Nickelodeon Experimake Sweet Scents and Perfumes - "Create fabulous scents for that special event with the Nickelodeon Experimake Sweet Scents and Perfumes Set. Follow the instructions and mix up the ingredients for sweet-smelling perfumes! Make personalised perfumes with lovely fragrances such as vanilla, apple and berry. That's not all, you can also create scented bath salts and perfumed flowers. Your nostrils will love this Experimake kit. Don't forget to collect the rest of the Nickelodeon Experimake range for even more fun. What's in the box? Protective gloves Sea salt (100g) Liquid glycerine (15ml) Vanilla fragrance (3ml) Apple fragrance (3ml) Pink cosmetic colouring (3ml) Berry tea bag Spray bottle Heart-shaped flask 3x filter paper sheets Large measuring cup Small measuring cup 3x pipettes 5x wooden sticks 3x wooden spatulas 3x straws Product features Experimake: created by scientists, fun for kids. The perfect STEM gift for little learners Heart shaped bottle dimensions: approx. 11cm (H) x 5.9cm (W) x 2.2cm (D) For ages 8 and over"
Made by: AddoCategory: Learning and Books
Item Code: ENT531194
FREE 30 minute Click & Collect at 90 UK stores.
Customers who purchased "Nickelodeon Experimake Sweet Scents and Perfumes" also looked at: