Early Learning Centre Wooden Activity Workbench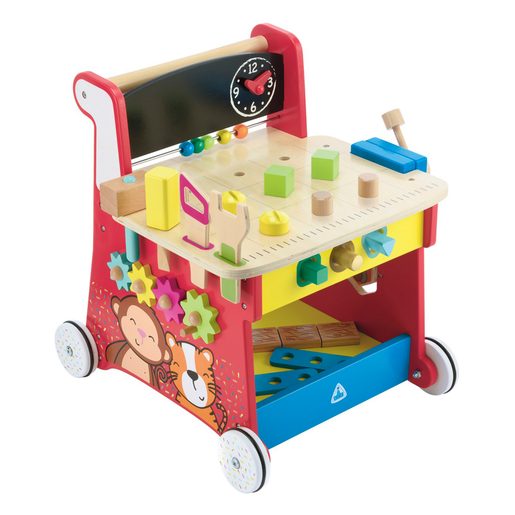 Price £49.99

+ FREE DELIVERY
BUY NOW!
Early Learning Centre Wooden Activity Workbench
Early Learning Centre Wooden Activity Workbench - " The Early Learning Centre Activity Workbench is ideal for encouraging your little one to stand, move and discover. Made from sturdy wood and finished with bright colours and shimmering gold, this engaging activity centre features a bar to hold onto for extra support when your little one is toddling along, providing baby with the confidence to take their first steps. This fun workbench comes with 22 accessories, including wood to saw, a shape sorter, a clock with moveable hands, colourful wooden beads for spinning, a chalkboard to scribble on and so much more. Great for rewarding imaginative play, your little one can explore the workbench to find the screws, use the spanner, turn the cogs and spin the vice. With bolts to twist and wood to saw, this fun walker will provide endless hours of fun Exploring the different elements of this Activity Workbench encourages children to explore their imagination and develop their hand to eye coordination with physical movement. Product features: Push-along, shape-sorting, play-building activity station with shimmery god finish Set contains: 1x wooden activity workbench and 22x wooden accessories including tools, shapes and activities Sturdy design, great for building confidence in walking Encourages movement and developing hand to eye coordination Product dimensions: 44cm (H) x 33cm (W) x 36cm (D) "
Made by: Early Learning CentreCategory: Toys
Item Code: ENT540395
FREE 30 minute Click & Collect at 90 UK stores.
Customers who purchased "Early Learning Centre Wooden Activity Workbench" also looked at: